There are bathroom drawer organizer ideas, medicine cabinet tricks, and many more ways to get the clutter in your bathroom cabinets under control.
Is your bathroom clutter making you want to pull your hair out instead of brush it?
Bathrooms tend to be the home for stuff like toiletries, make-up, jewelry, bath bombs, towels, candles, hairdryers, and more.
Choosing Bathroom Organizing Supplies
Even a large space can get overwhelmed with clutter if you don't have anywhere to store your stuff. But, finding the right bathroom organizing supplies isn't just about loading up on cute bins and baskets.
Whether you have a spacious luxury bathroom, a guest bath, a small bathroom, or a tiny shoebox with a toilet, the proper organization makes all the difference.
Think about your habits. Do you need to see everything, or like it hidden? Do you need quick solutions, or do you want things sorted by the most specific detail?
What do you need to store? Where do you plan to keep it? How much stuff do you have? It's your bathroom space; so, be honest with yourself as you answer these questions.
Once you know these critical tidbits, you can find the right style and size organizers for you and your master bathroom. For example, if you don't like to look at the mess, opt for opaque bins or containers and use labels. However, if you need to see it (just not spread out all over the place), you might do better with clear storage.
9 Bathroom Organizing Supplies
You can find supplies for your bathroom drawer organization at the container store, Dollar Store, amazon, or any large superstore.
Here are some organizing supplies for inspiration to tame your bathroom clutter monster.
1. Clear Stacking Drawers
These clear stacking drawers are a great way to contain your items, but still see what you have at a glance. They come in several different sizes and stack securely on each other.
2. Slide-Out Storage Baskets
This two-tier slide-out unit gives you extra storage and drawer space wherever you need it. You can place them in a linen closet or keep them in a vanity cabinet to double your storage.
Adjustable dividers in the baskets make it a breeze to keep like items together.
3. Suction Cup Corner Shower Caddy
Are you tired of shampoo bottles, body wash, shave gel, and random containers filling your shower seat or falling on the floor? You don't need a fancy built-in shower niche.
Use this handy suction cup caddy in the corner of your shower or tub. It holds up to 30 pounds. It is great to hold bath toys, a loofah, skin care products, or hair supplies.
4. Hand Towel Storage
Keeping extra hand towels in the bathroom is a must. Instead of a random pile under the sink (that always falls over), put them in a divided organizer.
5. Accessory or Makeup Storage
A make-up carousel, or lazy susan, is just the ticket for storing items in a cabinet, closet, or on a vanity. This is great if you have limited space around your bathroom sink.
There are more accessory and makeup storage ideas in the Drawer Section below.
6. Toilet Paper Storage
Storing toilet paper in the bathroom can be tricky if you don't have extra cupboard space. Choose from a traditional TP holder, a modern farmhouse toilet paper holder, or a woven basket to set on the back of the toilet.
7. Over the Toilet Storage
Don't forget about the valuable wall space above the toilet. Use open shelving like the ones shown below, or a closed cabinet to store even more.
8. Shelf Liners
Personally, I like non-adhesive shelf liners. A drawer liner will keep things from sliding around, and they can be easily removed to clean.
9. Labels
The clear bathroom script labels be the topping to your newly organized bathroom.
7 Bathroom Drawer Organizer Ideas
Now, let's talks specifically about drawers!
Some of the most challenging areas to keep organized in a bathroom are the drawers. We have a lot to store. Hair ties, bobby pins, toothpaste, make-up, razors, hair supplies, and so much more.
Drawers can get pretty messy! Deep drawers can present even more of a challenge, with everything falling to the bottom.
When you're ready to tackle your bathroom counters and bathroom vanity drawers, start by taking everything out of the bathroom. Clearing the space will help you start with a blank slate.
From smaller items, such as cotton swabs and cotton balls, to larger items such as a curling iron and hair brushes, there are clear plastic storage bins for everything.
Below are some fantastic bathroom drawer organizers to help you bring order to the mess.
1. Clear Plastic Drawer Organizers
These clear plastic storage organizers are perfect for your bathroom drawer clutter. You can sort items together in different sized bins and keep everything in sight. The best part is these containers stack. Stackable bins use valuable space in your deep drawers.
2. Expandable Drawer Organizer
This adjustable organizing tray allows you to custom-fit your storage to your bathroom drawer and your needs. You can mix and match the different pieces, placing them in a variety of configurations.
3. Deep Drawer Organizers
If you have extra shampoos, lotions, and soaps like I do, you probably need deeper organizers.
This set of 4 deep plastic organizers are perfect for all of your taller items.
4. Bathroom Storage Jars
Not into the plastic organizers? There are great solutions.
This 6 pack of Apothecary bathroom jars are perfect for organizing, and labeling, your smaller items. Simply fill, and put down into your drawers!
5. Multi-Size Containers
This five-piece bin set features different-sized bins with a matte finish, perfect for storing bathroom essentials.
Some of the bins are taller, making them great for a deep bathroom drawer. You can keep make-up brushes, lip gloss, mascara, perfume bottles, and more in the bins.
6. Clear Divided Organizers
A set of clear divided organizers are great for makeup sponges, extra razor blades and so much more.
7. Bamboo Organizers
If you prefer a luxury look, try using a set of bamboo storage organizers.
4 Tips for Organizing Medicine Cabinets
Another common spot in the bathroom that can get a little out-of-hand is the medicine cabinet. It's a great way to sneak in extra storage, but it can fill up quickly.
Medicine Cabinet Storage
● This medicine cabinet from Just a Girl maximizes the vertical space with tall, shallow drawers. Each one is the perfect size to hold the right amount of items without digging through a bunch of stuff. Clear, neat labels make it simple to find exactly what you need.
● You'll love this idea from decoist, with a metal back wall adding more storage bang for your buck.
With magnetic strips, the wall becomes a place to store things with magnetic containers. Also, clear risers double the space in areas where you don't need as much room between the shelves.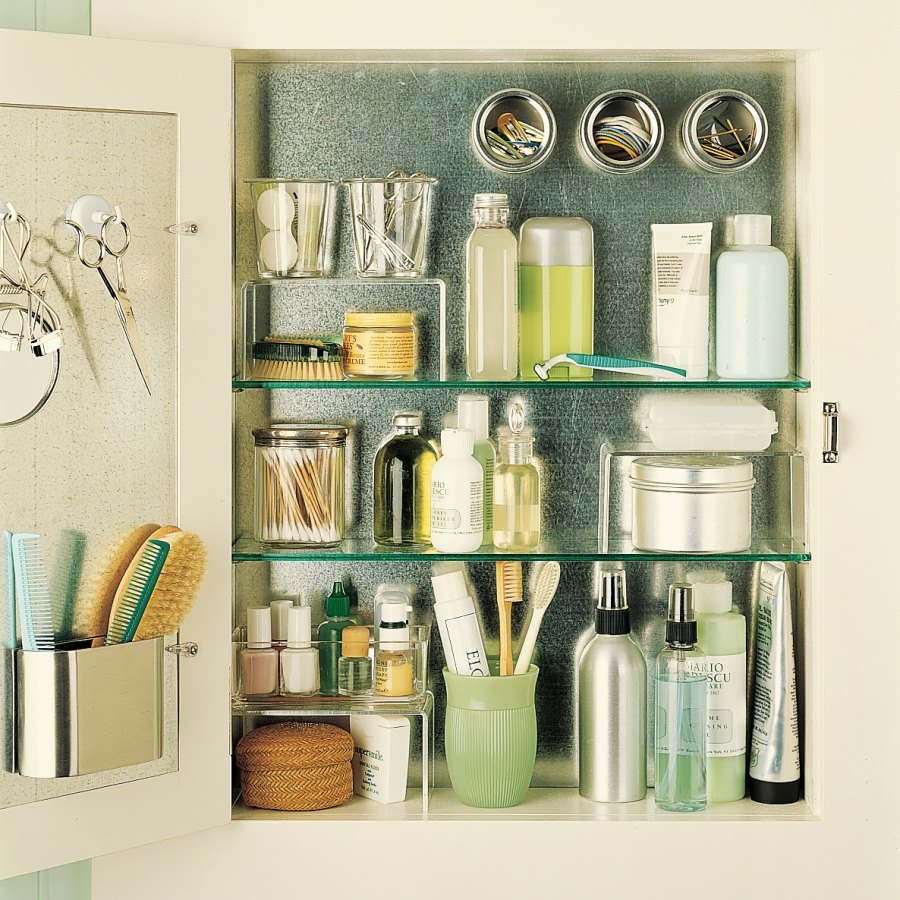 ● This pin from Tracy DiBiase takes the idea of a magnetic back wall further, adding magnets to the back of makeup. You can purchase magnet strip at any arts and crafts supply store. You can also use magnetic hooks to hang things like small scissors and hair ties.
● A medicine cabinet with a shelf and attached towel bar give you all kinds of storage in one place. You can keep prettier perfume bottles, etc., on the open shelf and tuck things you don't want to see inside the cabinet.
What part of your bathroom do you struggle with the most when it comes to staying organized? Share in the comments! And hopefully, you've found just the right inspiration in these tips to help you conquer your bathroom clutter.
Before you go, here are a few posts you'll enjoy:
The Best Non-Toxic Laundry Detergents
Why You Want a Vitamin C Shower Filter
50 Modern Farmhouse Bathroom Ideas
20 Under Kitchen Sink Organizing Ideas
Bathroom Drawer Organizer Ideas